24 April 2020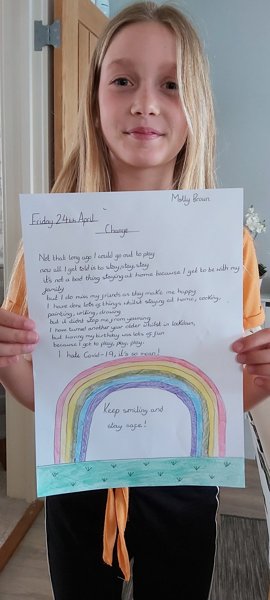 We would like to end our week with a lovely poem by Molly, Year 5. Earlier this week we set the Year 5's a challenge of writing a poem called 'Changes'. They were asked to use a video link to a poem with the same title, performed in a rap style, as inspiration.You can find the link below if you want to have a look.
https://vimeo.com/265490638?utm_campaign=11420490_Poetryline%20resources&utm_medium=email&utm_source=CLPE
Molly chose to write her poem about the changes in life since school has been closed and not only is it presented beautifully but we have found it quite an emotional piece of writing to read. Lock down has been challenging for us all and we agree with you Molly, Covid-19 is rubbish!
Happy birthday for last week Molly!
Poetry is a great way to express your emotions, why don't you give it a go too!
v.marshall@springfieldacademy.net
l.orhan@springfieldacademy.net
Category: Years 5 and 6
---
Mr Willett
27 April 2020
Well done Molly, that's a brilliant piece of work!
Leave a Reply